Performing arts are a form of art in which artists use their voices and/or their bodies, often in relation to other objects, to convey artistic expression. It is different from visual arts, which is when artists use paint/canvas or various materials to create physical or static art objects. Performing arts include several disciplines, each performed in front of a live audience.
Cut Piece, Yoko Ono, 1965
Grape fruit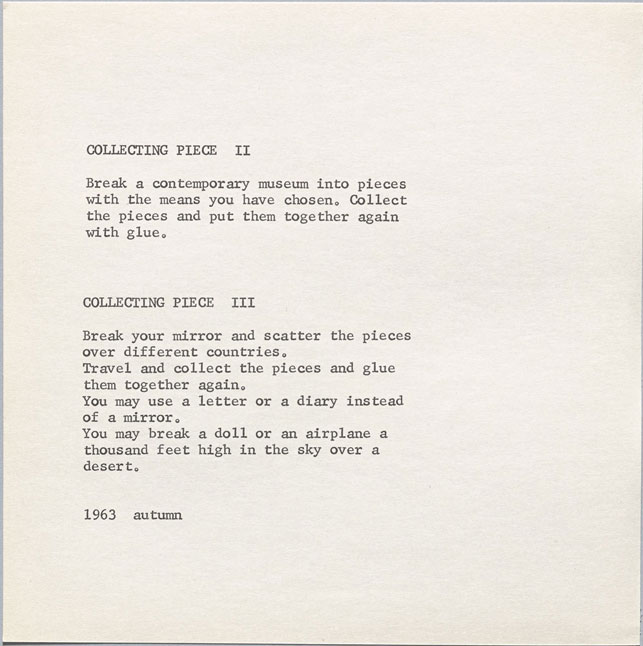 Carolee Schneemann:
Carolee Schneemann (born October 12, 1939) is an American visual artist, known for her discourses on the body, sexuality and gender. She received a B.A. from Bard College and a Master of Fine Arts from the University of Illinois. Her work is primarily characterized by research into visual traditions, taboos, and the body of the individual in relationship to social bodies. Her works have been shown at the Los Angeles Museum of Contemporary Art, the Museum of Modern Art in New York, the London National Film Theatre, and many other venues. Schneemann has taught at several universities, including the California Institute of the Arts, the School of the Art Institute of Chicago, Hunter College, and Rutgers University. Additionally, she has published widely, producing works such as Cézanne, She Was a Great Painter (1976) and More than Meat Joy: Performance Works and Selected Writings (1997).
---
Homage to New York, Jean Tinguely, 1960
Jean Tinguely (22 May 1925 – 30 August 1991) was a Swiss painter and sculptor. He is best known for his sculptural machines or kinetic art, in the Dada tradition; known officially as metamechanics. Tinguely's art satirized the mindless overproduction of material goods in advanced industrial society.
Drawing Machine at Tinguely Museum in Basel, Switzerland
Performance Activity:
Take Out a Piece of Paper.  Draw a message with a classmate in mind. Fold the paper up carefully so the drawing wouldn't show. Blindly draw a drawing, go in front of someone you think the message is intended, and read it to that person.
Digital Performance Activity:
Use trash, motor, duck tape,
Use Google Keep to jointly compose a digital poem with your cellphone.